June 12, 2019. For me, it began like any other Wednesday. I got out of bed, showered, got dressed, got to work on time; the usual. To the naked eye, it was just another 23-year-old kid doing his job in the apex of summer, in a modicum town on the North Dakota/Minnesota border, where nothing of particular significance gripped them in any way. Jon Stewart gave a riveting and heartfelt speech in support of the 9/11 Victims Compensation Fund, Fortnite was still the biggest video game since Super Mario Bros, and the Cardinals were eviscerated by the lowly Miami Marlins (0-9!); but otherwise, just another Wednesday.
Only, it wasn't just another Wednesday.
And while my demeanor brought on the façade of cool, collected, and easy-going (my archetype, if you will), I was truly anything but. For my team, my NHL team, the St. Louis Blues, were less than 12 hours away from embarking on the most pivotal, invigorating, stomach-turning two hours and twenty-one minutes of their franchise and everyone involved.
The players. The coaches. The management. The Zamboni drivers (none of which are 42). The anthem singers. The alumni. The charismatic celebrities. The 11-year-olds with rare autoimmune diseases. The stadium workers. The city officers and traffic controllers. The superfans, casual fans, and non-fans. The City. And of course, me. All anxiously, painfully, and excitedly waiting in trepidation for a glimpse of the penultimate glory that had evaded the St. Louis Blues since their inception in October of 1967: Game 7 of the Stanley Cup Final.
Neither fan nor player for the Blues had treaded these waters before. Some came close – names like Arbour, Berenson, Plager, Hall, and Sabourin – only to be deemed the sacrificial lamb to a retrospectively buffoonish playoff bracket (The expansion teams were thrown into one conference, the original 6 into another). In fact, none of them had even tasted a Stanley Cup Final win – being swept in all three appearances. Yet new names like Gunnarsson, Tarasenko, Schenn, Schwartz, Binnington, and O'Reilly had finally brought the Blue Note this far – the last bastion impeding their crusade to hockey immortality.
THE JOURNEY
To say the Blues of 2018-19 changed the game of hockey was an understatement. In a decade saturated by stories of hope, this one seemed the proverbial cherry on top. In the same decade, we saw another St. Louis franchise pull off a miraculous comeback on their last limb. A football club came from relegation and 5000:1 odds to win the Premier League. And who can forget the timeless run the Vegas Golden Knights pulled off in their first year in the league just a year before?
Now, after almost a decade of "close, but no cigar", the Blues seemed to have a new shot after a landmark trade on July 1, 2018: Star center Ryan O'Reilly was traded from the Buffalo Sabres to St. Louis in what was considered a massive win for the Gateway to the West. Then, calamity struck. A head coach was removed, and a franchise deemed Stanley-Cup-Worthy plummeted to the bottom of the standings at the start of the calendar year, and the flood of ridicule poured on.
To not reiterate this story for the 100,000th time, I'll be concise – one coach, goaltender, an 80's postgame anthem, and an 11-game winning streak later, the Blues managed to literally slingshot their misfortunes right back into playoff contention with almost too perfect timing. They whited out the Jets in round 1, shot down the Stars by one puck in round 2, and waltzed past the Sharks (after "the handpass" just pissed them off enough to wipe the floor with them) in the Conference Final. Now, the final competitor – the Boston Bruins, a Stanley Cup Final rematch nearly half a century in the making.
MISSING THE LAY-UP
Prior to game 7, the anxiety possessing every atom of my being was less bred of fear and more of hope. After all, the Blues were up 3-2 in the series and had a chance to close the Cinderella story at home. You think a franchise this close to tasting their first championship gets rowdy – now imagine they claim it on their turf.
I had a few friends that were following the Blues run for a lot of reasons. Some followed because they were Blues fans like you, some because they were Bruins fans or Wild fans (which is to say they were anti-Blues fans), and some followed just because I could not shut up about them ever (those are the people I'm both incredibly grateful and bewildered they still hang out with me).
Now I had to some of these friends multiple times that the Blues needed to close out the series in game 6. This was their game 7. You could not go back into the Roman Coliseum slaughterhouse of hockey that was TD Garden, home of some of the most memorable game 7s in NHL history – a lot of which has gone in Boston's favor (I know I already poked fun once, but my deepest condolences to any Toronto readers – I genuinely root for you). I figured there was no way you could give the giants of the Bruins like Zdeno Chara, Brad Marchand, Tuukka Rask, David Pastrnak or Patrice Bergeron life by bringing it back to their town, their fanbase, their home.
Well, the Blues not only gave the Bruins an inkling of life; they damn near gave them the defibrillator. The 4-goal third period was nothing short of a collapse from the Blues' perspective, with a Hasek-level performance from the impregnable Tuukka Rask. After over half a century of buildup, heartbreaks, anticipations, tickets, trades, shots, saves, goals, cellys, wins and losses – the ultimate fate of a franchise's mark on history would come down to one game. Game no. 108. June 12th. Winner Take All.
Needless to say, I was perfectly calm and level-headed the whole time.
GAME 7 – PERIOD 1
Imagine for a moment, if you will, the dynamo of emotions that rush through millions of people's heads when you approach game 7 of the Stanley Cup Final. For Boston, maybe everything is the same as before – from the brink of elimination you managed to punch a ticket for one last dance with a resounding victory. You've done it once, now you can do it again, this time with almost 19,580 supporters on your side.
But still, think of emotions on both sides. Think of fans that will be in attendance at TD Garden. The broadcasters like Doc Emrick, or Chris Thorburn, or Judd Sirott, and what they want to incorporate into a Stanley-Cup winning call. Think about the millions of fans, young and old, casual and hardcore, filling the bars and restaurants all over Missouri, Massachusetts, even the world over (we're looking at you, @Dutch_Bluesfan!). Look at all the players – how they have to keep their emotions in check for two and a half hours in the culmination of all their pond hockey outages, late-night drives from practice, the families that so graciously helped carry on their lifelong dream of getting to right here, right now.
Think of the revenue that has been brought to the two cities up to this point. From food and drinks, to merchandise, to tickets, to parking passes, to your new favorite jersey or hat. Maybe there's eve a tourism aspect, for all the die-hard fans and family members that traveled to the away games. Money, blood, sweat, tears – it has all lead to this, and it all ends tonight.
But hey, like I said, I just woke up like it was any other Wednesday.
I went to work, did my job (as well as my focus would allow, anyway), clocked out at 4:30, and headed home. I made myself an early dinner (Kraft shells and cheese), threw on my Ryan O'Reilly jersey, put jerseys on my dining room chairs (Tarasenko, Schwartz, Binnington, and Parayko), turned on the TV to NBCSN, turned on KMOX 1120 in the background and patiently, patiently waited, muting out the "Let's Go Bruins!" already drowning out TD Garden in my head. Why do I go into such detail about this?
Because as a hockey fan, this is the closest thing you'll ever get to re-experiencing your wedding day. You know you will remember this exact day for the rest of your life. Maybe not every single detail, but for me, it was one of the most significant days I have ever lived. I go into such painstaking detail because, well, it's just one of many stories centered around the ultimate story.
So the puck finally drops, and for once I'm finally allowed to breath a little. It's finally started. Let the incessant right foot-tapping commence. First period. Starts off just as you'd expect after six games of war and the next-closest thing to murder. Binnington makes his first big save of the game at 3:40 after Sanford blows his coverage of Noel Acciari. 5:40, Marcus Johansson blows past Jaden Schwartz for a shot and has a wide-open net that he can't get the rebound for. "Okay, okay, it's fine, it's still 0-0, this is FINE."
13:28 to go. Sean Kuraly backhands to another wide-open net off a rebound and Binnington stuns with another amazing save. As we all were, I am once again stupefied by the rookie wizardry that is Binner on that save, while livid at the rebound control the Blues D-core can't seem to corral. Colton Parayko takes a delay of game minor at 7:57 and I think "oh, here we go". The Bruins powerplay was dominant all year (25.9%) and even more dominant in the playoffs (32.4%. Yes, you read that right). And, brilliantly, somehow, the Blues managed to kill it off.
11:36, Johansson with another marvelous steal goes right to Binnington's doorstep and is robbed. I'm nearly slackjawed in awe at how much the Bruins are dominatingin the first 10 minutes as the epitome of all my haunting nightmares comes to bitter reality. And it's still 0-0. Now, the Blues are finally getting in gear, after the shot total was 6-1 Boston's favor through 15 minutes. Sammy Blais, who also had a phenomenal breakout in the playoffs, crushes Acciari and registers a shot.
Ryan O'Reilly immediately gets it back to Blais behind the net, who cycles back up to the captain Alex Pietrangelo. He retrieves, holds, sends it across to his partner Jay Bouwmeester who delays just an extra split second (what a turnaround Jay had in the second half of the season!), rips one ice level perfectly on Ryan O'Reilly's weird-ass stick and BOOM. On probably the slowest goal of the playoffs, the Blues lead, 1-0 at 16:47.
I don't make any noise. Like most fans I hollered and screamed like a maniac at every goal the Blues have ever scored prior (fun aside – I got a noise complaint for that game 7 2OT winner scored by Pat Maroon back in May) – yet this time, a small fist pump was all I emoted. I knew it was a start, I knew a lead was good, and I knew the Bruins would somehow get it back. Eventually. It was a fundamental law of the universe. The Bruins retaliate with 5 more shots on net, most of them by their heavy hitters. Binnington gets to all of them. It's the dying 15 seconds of the period and Schwartz finds himself in the neutral zone surrounded.
Then, the unthinkable happens. I mean, seriously, what was he DOING?
Brad Marchand heads off for a change, bewildering everyone, especially the puck handler Jaden Schwartz. Schwartz dials back to a streaking Pietrangelo who dekes his way into the slot and OH MY GOD IT'S 2-0! 7.9 seconds in the first period ad TD Garden is stunned to near-deafening silence. Two goals on two shots and the Blues, remarkably, skate off with a 2-0 lead. There's still 40 more minutes and I haven't made a peep.
GAME 7 – PERIOD 2
The Bruins came out swinging in the second, but St. Louis just kept hanging with them. Sean Kuraly and John Moore land a few early shots on Binnington that are turned away, David Pastrnak tries to sneak a backhander by his stick side, but the man is dialed in. Now we're down to 36 minutes. Sammy Blais gets the first shot on for the Note at 5:08, but Tuukka Rask has no issue with that, but the Blues start finding their own beat. Hit after hit after, shots thrown and blocked; it's a physical tug-of-war and neither side will tolerate any easy scoring chance. The game may seem to be "settling in", but it's some of the most nerve-racking 5 minutes of hockey I've ever watched.
Halfway through the game. Brayden Schenn and Jaden Schwartz finally make Tuukka Rask panic with a perfectly drawn-up 2-on-1. The puck launches into space, tinks the crossbar, and Chara just manages to bail out his goaltender as the rebound sails out to an open left wing. The rebound totally misses and this is the first time I let out a massive, disgusted, and dissatisfied groan at the missed opportunity to go up 3-0 off of Brayden Schenn's stick.
Justifying a troubled Tuukka Rask as a chargeable offense, the Bruins pour it on for the next 4 minutes and spike my blood pressure through the roof. We've seen the Blues have the most dangerous lead in all of hockey eviscerated at the hand of the Bruins already, so I waited in anticipation to go down 2-1. Binner made the saves, Parayko made the blocks, and once again, St. Louis headed off with a 2-0 lead.
20 minutes. At least 20 more long, agonizing, timeless minutes away from history. And I've still barely made a sound.
GAME 7 – PERIOD 3
It still sometimes amazes me to realize that the emotions I was experiencing had never been experienced by any Blues fan in history prior to that night. The Blues had made it to the Cup Final three times, only to get pulverized in humiliating sweeps. No St. Louis fan had ever seen game 5. No Blues fa had ever seen game 6. And then we get to game 7, final period, leading against arguably the most ferocious club (save for Tampa Bay) in hockey. The line started to blur between level 11 nerves and pure numbness. I probably paced a mile's worth in my apartment. I couldn't eve watch the replay analysis, as if they were open sores that would remind me of anxious pain even if I looked at them again. Finally, the third period.
Puck drops. Charlie Coyle wins it. Torey Krug gets a slapshot off a minute later. Oskar Sundqvist and Ivan Barbashev continue their telepathic chemistry with a great sequence that results in a couple shots. Kuraly lays a shot on Binnington; Parayko lays a shot on Rask. Acciari, Nordstrom and Krug – who were incredible the entire series – work the puck into the zone. Brandon Carlo fires from the point into Brayden Schenn's ankle. Acciari just beats Schwartz to the puck and sends a Hail Mary to Jordan Binnington. The rebound bounces right to Joakim Nordstrom, all alone, 2 feet in front of Binnington. He sets up on the left side for his dominant shot, trying to tuck it in past his right blocker an-
I literally collapsed to my knees and bowed, prostrate to the god that is named Jordan Binnington. The dam in my vocal chords is broken. Where one Brayden Holtby made "The Save", so now has a 24-year-old rookie goaltender that no one ever heard of prior to January 6th. And, for the first time since an embarrassing 5-1 loss at Enterprise Center I say to myself "That's it. The Bruins. Are. Done. We're gonna win the Stanley Cup."
The fans couldn't even believe what they witnessed. Nothing short of pure, unadulterated larceny had silenced the building in appreciative lunacy. Meanwhile, a little apartment in Fargo, ND was going absolutely bonkers. 8:43 left to play. Vladimir Tarasenko blows past Charlie McAvoy, takes a quick glance in the near corner, and lands what might be the prettiest pass of his career, and Brayden Schenn would not be denied again.
The pass. The one-timer. Post to post and in. The Uppercut, both literally and figuratively 52 years in the making. 3-0. And as our fellow writer Darrin Hamlin put it, "…when Schenn made it 3-0, it was over."
2 minutes and 35 seconds that remains forever engraved in every Blues fan's memory, including and especially mine, was all it took to concisely claim victory for the Blues. At this point, I'm so beside myself I almost can't see straight. What do I do next?
Well, for some reason I can't really explain, I drive to a bar.
I got the game on my phone and hi-tailed it to the restaurant I used to work at, knowing every TV has this game on. To this day I couldn't tell you why I did it, maybe because I needed some camaraderie amongst some old coworkers in my unbounding jubilance. I park my Chevy Traverse and walk through the door to see David Perron in the near corner, perfectly setting up Zach Sanford to a wide-open net. That's it. The Bruins have officially collapsed. 4-0. The New England kid just scored in his home city. Perron's absolutely lost his mind. I've lost my mind. There's only 4:38 left in the final game of the season.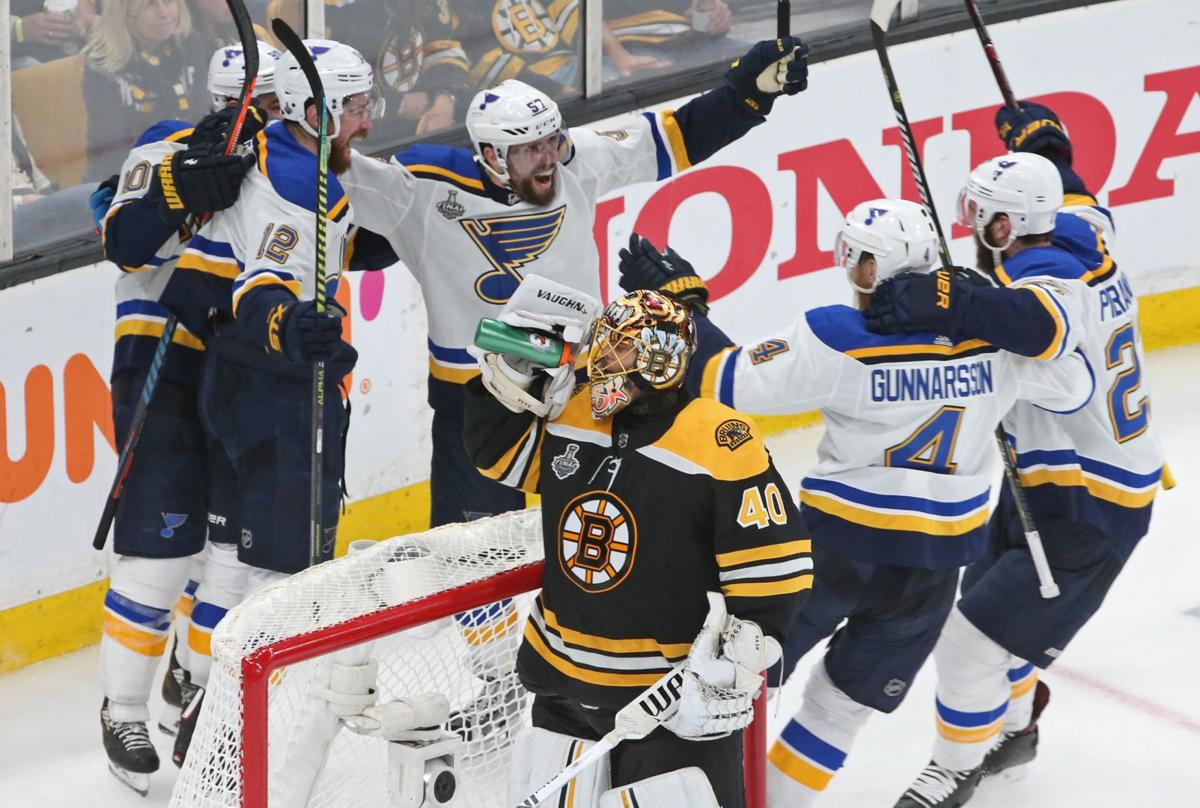 I never sat at a stool or table. I frantically hopped like a blue-and-gold rabbit, on the verge of hyperventilating at the spectacle before me. The Bruins still kind of played spoiler – Matt Grzelcyk scored with Rask pulled at 17:50 to make it 4-1 and ruin the shutout. For a few seconds there, a slight twinge of dread creeped into me, thinking they could somehow find a way to pull back and tie it prompting some colossal failure on the Blues part.
Then I saw their faces, and heard the goal horn, loud and clear. What was I thinking? The fans weren't in it, the Bruins barely had glove taps for the goal; they had already accepted their defeat. At 3-0 it was truly over.
Final minute. None of the Blues are sitting. Not all smiles just yet, but the final agonizing 30 seconds of mildly nervous tension still resided. We all knew it was over, we just had to move a chunk of rubber for 60 more seconds to make it official.
The puck found its way out of the zone after a feeble shot by Brad Marchand is stopped with 23 seconds left. Now the Blues' bench is as giddy as I've been for the last eternity of 8 minutes. 14 seconds, a shot missed at the blue line. Jaden Schwartz is the final player to touch the puck as he ices it all the way back to the Bruins net. The refs see no need for icing as the clock winds down. The Blues evaporate from the bench, as does their equipment. 5. 4. 3. 2. 1.
I think all of North Dakota could've heard me.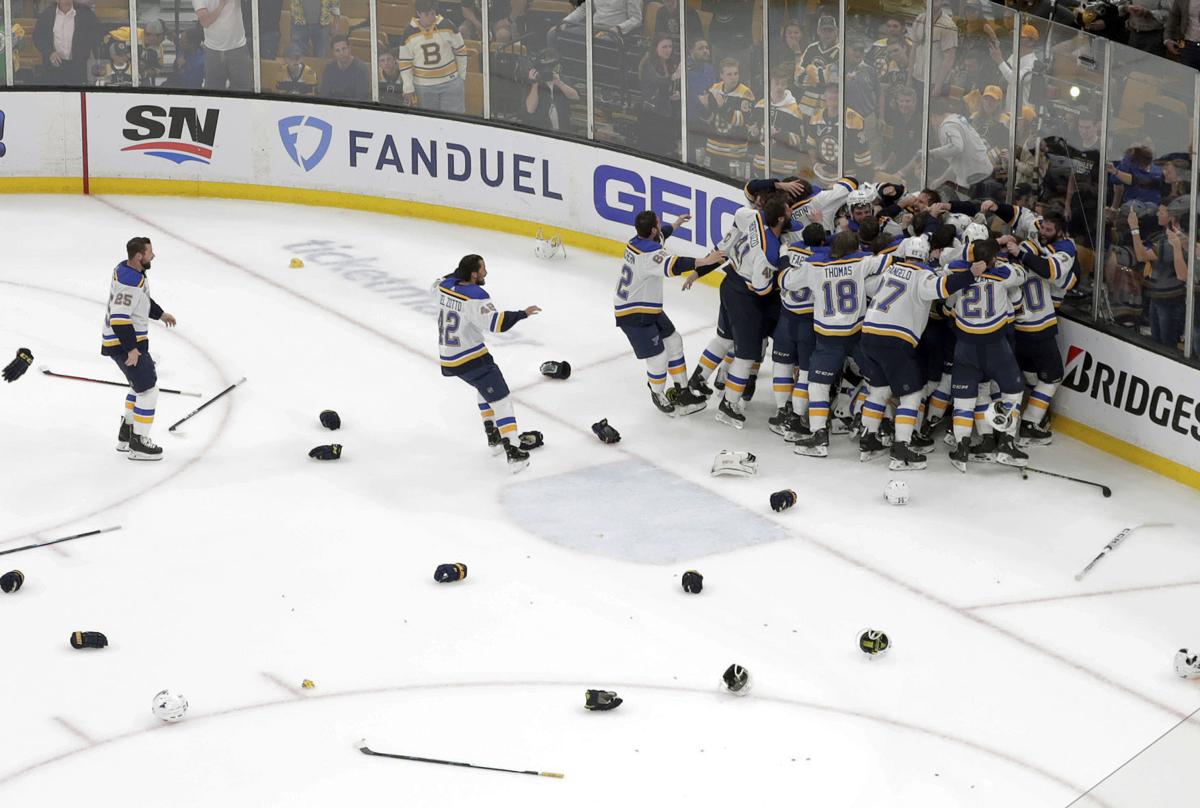 CELEBRATION
I think I screamed a resounding "YES" for about 20 seconds straight. The entire restaurant darted their heads in sudden shock as I immediately became the center of attention. The kitchen staff came out just to see a 6'-5" kid lose his mind in unparalleled joy. People even clapped for me – for whatever reason – in what was probably the funniest moment of the experience for me. The dam of my vocal chords now demolished entirely, I let out the loudest, proudest "LET'S GO BLUES" I have ever made in my lifetime. The game is over. The series is over. The wait is over. The St. Louis Blues are Stanley Cup Champions.
Calls and texts from close friends and family poured in on my phone; my mother (barely a sports fan, let alone hockey fan) sounded just as emotional as I was when she called me. The restaurant goers couldn't help but grin at my unbridled, childlike euphoria. I immediately ordered my first drink of the night as I watched in awe as captain Alex Pietrangelo hoisted Lord Stanley's Cup in a mostly empty TD Garden.
Ryan O'Reilly accepting the Conn Smythe trophy (which, let's be real for a moment, should be Jordan Binnington's); the handoffs to Jay Bouwmeester, Chris Thorburn, the team, the coaches, the alumni, the broadcast crew. Colton Parayko and Laila Anderson holding each other in tears. Anthony Maroon, Pat Maroon's kid and the reason he came to St. Louis in the first place, beside himself in the stands.
As I went out to celebrate, I even ran into another Blues fan in Fargo. Donning a T.J. Oshie alternate navy jersey from the 2000s, we immediately hugged as total strangers, yet like complete siblings after the experiences we just shared. People in the other bar congratulated me as if I had somehow contributed to the Blues winning the Cup. Somehow, I managed to make it to work the next morning functional, but not without wearing a Ryan O'Reilly jersey the whole day.
June 12, 2019. 10:03pm. After 26 grueling games, 75 goals, 188 penalty minutes, and 782 shots, the Blues won their first Stanley Cup. It's a day that undoubtedly everyone tied to the St. Louis Blues will remember – from the players, coaches and staff, to the referees, to the fans, to the Zamboni drivers, to the anthem singers and alumni, to the newspaper writers, to the 24-year-old kids just going about their day in Fargo, ND. Pretty decent for a Wednesday.
I hope I was able to make the retelling of my story as interesting as remembering your own stories. Hang on to those memories, cherish them. They are the amalgamation of stories that all filter into the ultimate story that was the 2018-19 St. Louis Blues, and it will keep me a fan forever.
Let's Go Blues!
For local Blues stories, recaps, insights and more, visit bluesrants.com!